#AceNewsReport – Feb.13: A Mexican man wanted for kidnapping in the State of Sinaloa, Mexico, was deported by officers with U.S. Immigration and Customs Enforcement's (ICE) Enforcement and Removal Operations (ERO).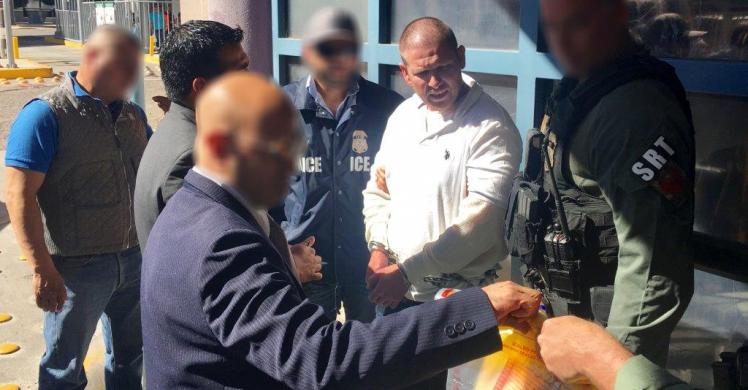 Sebastian Medina-Cuabras, aka Carlos Lopez-Barraza, 39,was transferred to the custody of representatives from Mexico's Procuraduria General de la Republica (PGR) and Mexican immigration officials by ERO officers at the Nogales (Arizona) DeConcini Port of Entry.
According to the arrest warrant issued by Mexican authorities, Medina-Cuabras is wanted for a kidnapping where he and three other individuals organized, prepared and executed a ransom plot in August 1999. Details of the Mexican arrest warrant indicate that Medina-Cuabras and other assailants abducted a man and took him to a home where he was kept blindfolded and his feet and hands bound. Police eventually gained entry into the home and rescued the victim. Medina-Cuabras, fled to the United States shortly afterwards to avoid prosecution.
Medina-Cuabras entered ICE custody Thursday after completing his 17-year prison sentence at the Arizona Department of Corrections following his conviction for aggravated assault (a dangerous crime against children in the first degree, a class 2 felony). Court documents from February 2000, indicate that Medina-Cuabras was involved in a road-rage altercation that erupted between him and the driver of another vehicle with seven passengers which included six minors. As the verbal altercation escalated, Medina-Cuabras opened fire at the other vehicle, striking a 7-year-old boy on his leg. Medina-Cuabras attempted a quick get-away but the driver of the other vehicle chased him. A police officer, who observed the chase, pursued Medina-Cuabras and eventually took him into custody. Police found a semi-automatic weapon and a handgun in Medina-Cuabra's vehicle.
"ICE will continue to remove those who pose a threat to public safety especially those who've harmed our children," said Henry Lucero, field office director of ERO Phoenix. "America is not a safe haven for those who are fleeing prosecution in their home countries. We are firmly committed to ensuring that foreign fugitives will be are returned to face justice for the criminal acts that they have perpetrated abroad."
On Nov. 15, 2012, a federal immigration judge ordered Medina-Cuabras removed, paving the way for his deportation.
EDITOR NOTES: Thanks for following as always appreciate every like, reblog or retweet also our newspaper is added with all our posts daily below: Private Messages to https://t.me/acechatnews
All our other main news can be found Ace News Services Our #Breaking144 news as it happens when it happens can be found at #AceBreakingNews
Need PC Help or Advice on Security or Protecting Yourself Online Visit: AcePCHelp.WordPress.Com and leave a message.
Featured writers posts here:Ace News Room ​Our daily newspaper is here : Ace Worldwide News
Ace Share News