#AceNewsReport – Mar.15: After two days of talks without certain factions attending, nothing was really achieved, whilst in #Syria militant factions continue #bombing and #killing civilians after another two #bomb attacks in Damascus today – #AceNewsDesk reported earlier on #AceBreakingNews

15:16: Recent Wave of Terrorist Attacks in Damascus Aim to Disrupt Syrian Reconciliation Process, Search of Political Solution – Reconciliation Minister – Even after a Syrian war: of 6 years of bloodshed #Peace is still far off from being achieved…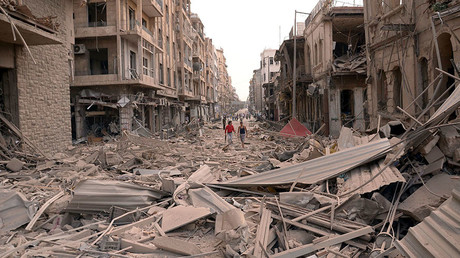 Friday marks the anniversary of the war in #Syria, arguably one of the most complex armed conflicts of our time, where the interests of nuclear superpowers and regional players, religious sects and shady businesses clash in a horrific bloodbath.
As the expert consultations will be held in Tehran in April, according to Kazakhstan's Deputy Foreign Minister Akylbek Kamaldinov – http://bitly.com/2m01Swo
Here's our transcript of today's second day and what was achieved in last two days in Astana….
11:28: CEASEFIRE VIOLATIONS, MAP ON SEPARATING TERRORISTS FROM ARMED GROUPS WILL BE DISCUSSED WITH OPPOSITION IN ASTANA ON THURSDAY- RUSSIA DELEGATION SOURCE
11:26: NO DOCUMENT SIGNING PLANNED FOR THURSDAY IN ASTANA AFTER CONSULTATIONS WITH SYRIAN AMRED OPPOSITION, MEETING TO LAST ONE DAY – SOURCE
11:11: HEAD OF SYRIAN GOVERNMENT DELEGATION SAYS DID NOT DISCUSS WITH RUSSIA ISSUE OF CONSTITUTIONAL COMMISSION AT ASTANA TALKS
11:09: ONLY DOCUMENT SYRIA GOV'T DELEGATION DISCUSSED WITH RUSSIAN TEAM IN ASTANA WAS ON PALMYRA DEMINING, PRESENTED OWN VIEW THAT RUSSIA ACCEPTED – HEAD
11:06: DAMASCUS DELEGATION HEAD SAYS TURKEY RESPONSIBLE FOR SYRIAN OPPOSITION'S ABSENCE IN ASTANA, ACCUSES ANKARA OF HINDERING ASTANA PROCESS
11:05: HEAD OF SYRIAN GOVERNMENT DELEGATION SAYS ASTANA TALKS ADDRESSED ISSUE OF SEPARATING TERRORISTS, ARMED GROUPS THAT SIGNED CEASEFIRE IN SYRIA
10:55: THERE ARE FORCES WHICH WOULD LIKE TO DERAIL NEGOTIATIONS PROCESS ON SYRIA, THE INTERNATIONAL COMMUNITY SHOULD PREVENT IT –RUSSIAN DELEGATION IN ASTANA
10:52: RUSSIA COUNTING ON HELP OF SYRIAN ARMED OPPOSITION IN PROVIDING INFO FOR MAPS OF REGIONS WHERE TERRORISTS ARE LOCATED – DELEGATION TO ASTANA TALKS
10:47: RUSSIAN, TURKISH, IRANIAN EXPERTS TO MEET IN TEHRAN APRIL 18-19 TO CONTINUE WORK ON SYRIA DOCUMENT – DELEGATION HEAD AT ASTANA TALKS
10:29: NEXT ASTANA MEETING TO TAKE PLACE IN MAY, PRECEDED BY CONSULTATIONS IN APRIL – GUARANTOR STATES JOINT STATEMENT
Tuesday: The European Union unveiled an ambitious plan on Tuesday to support the reconstruction of war-torn Syria, calling it a "dividend" to encourage warring parties to reach a peace deal.
EDITOR NOTES: Thanks for following as always appreciate every like, reblog or retweet also our newspaper is added with all our posts daily below: Private Messages to https://t.me/acechatnews
All our other main news can be found Ace News Services Our #Breaking144 news as it happens when it happens can be found at #AceBreakingNews
Need PC Help or Advice on Security or Protecting Yourself Online Visit: AcePCHelp.WordPress.Com and leave a message.
Featured writers posts here:Ace News Room ​Our daily newspaper is here : Ace Worldwide News
Ace Share News