#AceNewsReport – Apr.06: Two former Barclays Plc Libor traders were acquitted by a London jury of manipulating the key interest-rate benchmark following a six-week trial, ending another chapter in a case that has cost firms $9 billion
Ryan Reich and Stylianos Contogoulas were found not guilty of conspiring with others to manipulate the U.S. dollar London interbank offered rate from 2005 to 2007 after four hours of deliberations. The case was a retrial for the pair after another jury was unable to reach a decision in July.
"VICTORY!!!!!!!!!!!! The truth always wins," Contogoulas tweeted shortly after the verdict was read out Thursday. The panel had told the judge that it had found Reich not guilty a day earlier.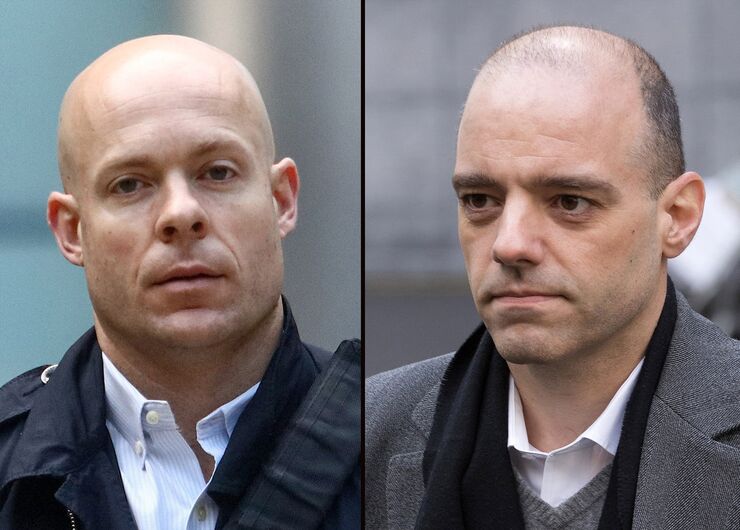 Ryan Reich and Stylianos Contogoulas
Photographer: Chris Ratcliffe/Jason Alden/Bloomberg The trial took six weeks then this happened 
The verdicts add to a patchy conviction rate for the U.K. Serious Fraud Office in its five-year Libor investigation and again raises the question of the merits of prosecuting junior traders while senior executives remain untouched.
Four former colleagues of Reich and Contogoulas are serving sentences of as long as 5 1/2 years for the offense last year after Tom Hayes, a former UBS Group AG and Citigroup Inc. trader, became the first person to be convicted in 2015. Six brokers accused of conspiring with Hayes were acquitted.
Bank Fines
The rate-rigging scandal tainted the industry and forced changes to how the benchmark, used to value trillions of dollars worth of financial products, is calculated. Banks have paid more than $9 billion to authorities around the world for their role in the affair, and the public outrage cost Barclays — the first firm to settle — its chief executive officer.
Still, critics and politicians have been disappointed by the lack of prosecutions targeting senior officials. While Contogoulas and Reich admitted they'd requested rates that helped their own trading books, they said they were only doing what their bosses told them to do.
Both men reacted emotionally to the verdicts Thursday, some three years after they were charged by the SFO.
We Meet Again: The Two Ex-Barclays Traders Acquitted at Retrial
"For the last eight years I have consistently explained that I acted appropriately, honestly, and in accordance with the rules at the time," Reich said in a statement. "I am relieved and delighted to have been acquitted."
The trial, which began in February, included testimony from a number of current and former Barclays senior executives, including Mike Bagguley, chief operating officer of the investment bank, and Harry Harrison, who claimed they were never aware of Libor-rigging and wouldn't have condoned it. Lawyers for Reich and Contogoulas said the pair never hid their actions because they didn't think they were doing anything wrong.
The jury took little under four hours of deliberations to acquit both defendants after the two men's second criminal trial in less than a year again pored over emails, online chats and phone records in a bid to prove a conspiracy.
Contogoulas "has consistently maintained his innocence of any crime and is gratified that today's verdict has vindicated him," Roland Ellis, his lawyer, said in a statement calling the decision to retry him as "regrettable."
"He has paid a heavy price as a result of facing these allegations, losing both his career and his reputation," Ellis said.
The Libor dollar rate was determined by a panel of 16 banks asked in a daily poll to estimate how much it would cost them to borrow from each other for different periods. The rate is a key benchmark baked into more than $350 trillion in securities, including loans and mortgages.
Ex-Barclays traders Jay Merchant, Jonathan Mathew and Alex Pabon were all convicted after the first trial, when a jury a failed to reach a verdict on the allegations against Reich and Conotgoulas. Peter Johnson, another former Barclays employee, pleaded guilty and was sentenced after the first trial.
EDITOR NOTES: Thanks for following as always appreciate every like, reblog or retweet also our newspaper is added with all our posts daily below: Private Messages to https://t.me/acechatnews
All our other main news can be found Ace News Services Our #Breaking144 news as it happens when it happens can be found at #AceBreakingNews
Need PC Help or Advice on Security or Protecting Yourself Online Visit: AcePCHelp.WordPress.Com and leave a message.
Featured writers posts here:Ace News Room ​Our daily newspaper is here : Ace Worldwide News