#AceNewsReport – Mar.15: This is an update on our post on our breaking Telegram Daily News here: https://t.me/acenewsdaily/8868 and what we know so far as newly-installed pedestrian bridge has collapsed at Florida International University in the Miami area and it's not immediately clear if anyone is hurt: The 950-ton span fell Thursday afternoon at the university's main Miami-area campus. Video shows vehicles underneath the bridge were hit.#FIUalert: The pedestrian bridge across Southwest Eighth Street has collapsed, please avoid the area.— FIU (@FIU) March 15, 2018THE FIU BRIDGE COLLAPSED OH MY GOD pic.twitter.com/JO7jfx5AoN— Gabriela Collazo (@GabrielaRose12) March 15, 2018: #AceNewsDesk reports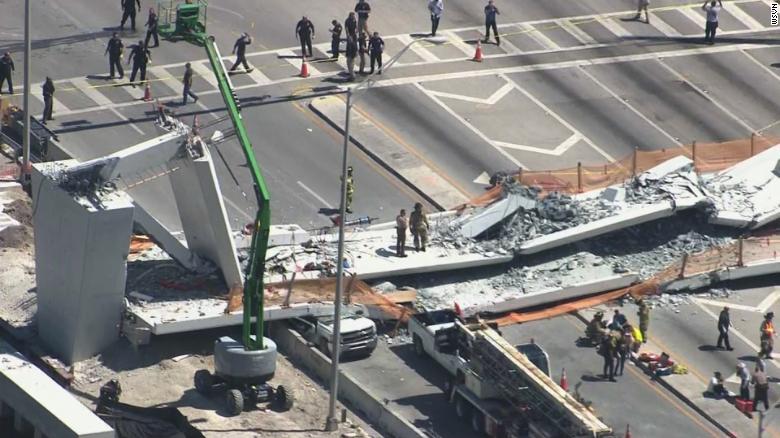 "There are eight vehicles that are trapped underneath as far as we know and we are going to try and get to them as quickly as we can," said Gimenez, who is in China on business: A spokesman with the Florida Highway Patrol previously told CNN that multiple people had died as a result of the collapse………Multiple agencies have responded to the scene. A spokeswoman with Miami-Dade Fire Rescue told CNN there were multiple injuries.
The bridge's span was just installed Saturday, although construction on the structure was not finished. A tactical response team with the Miami-Dade Fire Rescue is working to secure the bridge while searching for victims, the agency said on its Twitter account.
"We heard a loud bang behind us … and we looked back and the bridge had completely collapsed," said Isabella Carrasco, a student at the University of Miami, who had just passed underneath the bridge in a car. Doctors and medical students ran to the scene from a nearby building and started giving medical attention to victims, she said.
Florida Gov. Rick Scott was briefed on the incident by Miami-Dade County Police Chief Juan Perez, according to a schedule released by his office. He will be on the school's campus this evening to speak with local law enforcement and university officials, his office said.
A team of investigators from the National Transportation Safety Board is on its way to Miami, according to a tweet from the agency:
Carrasco, the student, said she saw at least five or six cars completely crushed beneath the bridge.
"Someone on the side of the road had asked a police officer if she had heard any response from the people inside the car," Carrasco said, "and she shook her head and said no."
Ricardo Dejo, an FIU civil engineering student, told CNN he saw cars pinned beneath the bridge. "I can't describe it," Dejo said. "We were really excited about the bridge (before the crash). Everything looked fine. I went underneath it with my own car and it looked great."
In a statement, the university said it was "shocked and saddened about the tragic events unfolding at the FIU-Sweetwater pedestrian bridge."
"At this time we are still involved in rescue efforts and gathering information," the statement continued. "We are working closely with authorities and first responders on the scene."
According to a fact sheet about the bridge on FIU's website, it cost $14.2 million to build and was funded as part of a $19.4 million grant from the US Department of Transportation. It was designed to withstand the strength of a Category 5 hurricane, the fact sheet said, and was supposed to last for more than 100 years.
The 950-ton bridge was meant to connect the school's campus to the Sweetwater neighborhood, home to many FIU students, according to a press release on the school's website.
"Our family's thoughts and prayers go out to everyone affected by this terrible tragedy," MCM, one of the companies that was contributing to the construction of the bridge, said in a statement. "The new University City Bridge, which was under construction, experienced a catastrophic collapse causing injuries and loss of life."
The statement added that MCM would "conduct a full investigation to determine exactly what went wrong and will cooperate with investigators on scene in every way."
Another company involved, FIGG, said in a statement that it was "stunned" by the collapse.
"Our deepest sympathies are with all those affected by this accident," the FIGG statement said. "We will fully cooperate with every appropriate authority in reviewing what happened and why. In our 40-year history, nothing like this has ever happened before."
Bolton Perez and Associates, a third company involved in the construction of the bridge, is not commenting at this time.
The bridge, located at the 109th Ave and 8th Street, was just completed on Saturday.
This is the scene at @FIU after bridge collapses. Police moving the media away "just in case the rest falls down."

— Monique O. Madan (@MoniqueOMadan) 6:21 PM – Mar 15, 2018
This is the scene at @FIU. First responders are trying to see if drivers are responsive. @MiamiHerald

— Monique O. Madan (@MoniqueOMadan) 6:16 PM – Mar 15, 2018
​According to local reports, Miami-Dade Fire Rescue has treated a total of five patients while one other was transported to a Kendall Regional Hospital as a "trauma alert."
This bridge fell in Miami.

— Pacheco (@yungeffdawg) 6:24 PM – Mar 15, 2018
Troopers on the scene have indicated that five to six cars were crushed under the bridge. Officials have since called on medical personnel to the scene.
This Miami bridge collapse is horrific. These cars have been completely flattened with drivers inside.

— David Mack (@davidmackau) 6:22 PM – Mar 15, 2018
​FIU released a statement moments after the collapse stating that they were "shocked and saddened about the tragic events unfolding." They did not offer any further details on the matter.
Munilla Construction, the company behind the pedestrian bridge has stated they "will conduct a full investigation to determine exactly what went wrong."
— Munilla Construction (@WeAreMCM) 7:13 PM – Mar 15, 2018 · Hialeah, FL
​Florida Gov. Rick Scott tweeted that he is aware of the incident and that he would be in "constant communication with law enforcement."
BREAKING: Footage just seconds after the collapse of a new pedestrian bridge at Florida International University in Miami. Multiple dead and injured.
DEVELOPING

— BNL NEWS (@BreakingNLive) 6:59 PM – Mar 15, 2018
​White House Press Secretary Sarah Huckabee Sanders announced during the Thursday press briefing that US President Donald Trump is aware of the collapse and has offered local officials any assistance they might need.
"The president is aware of the pedestrian bridge collapse at Florida International University," Sanders stated. "Our brave first responders are working feverishly to save lives. We will continue to monitor the situation closely and offer whatever support is needed to the local officials and community."
THE FIU BRIDGE COLLAPSED OH MY GOD

— Gabriela Collazo (@GabrielaRose12) 5:57 PM – Mar 15, 2018
Cars are trapped under the bridge. Police confirm "multiple deaths." @MiamiHerald

— Monique O. Madan (@MoniqueOMadan) 6:14 PM – Mar 15, 2018
​Officials with FIU hailed the pedestrian bridge as a "first of its kind" as it was built with the help of an "innovative" technique that reduced any potential risks to workers, commuters and pedestrians and even prevented traffic jams within the area, according to CBS Miami. Construction for the $14.2 million bridge began in the spring of 2017.
First-of-its-kind pedestrian bridge "swings" into place. "FIU is about building bridges and student safety. This project accomplishes our mission beautifully," -President Mark B. Rosenberg. http://bit.ly/2IihmUm #worldsahead

— FIU (@FIU) 5:49 PM – Mar 10, 2018
Drivers have been advised to stay away from the area.​ The National Transportation Safety Board has launched an investigation into the bridge collapse.
At least one person has died after a pedestrian bridge collapsed at Florida International University in Miami, according to Miami-Dade's mayorMORE: @FIU releases a brief statement regarding the bridge collapse that has already claimed multiple lives https://t.co/IkwMOG1kNQ #Florida #Miami https://t.co/TmiXHUupU6 Sputnik March 15, 2018: CNN's Deanna Hackney, Amanda Watts, Justin Lear, Rene Marsh, Jamiel Lynch and Keith Allen contributed to this report ……Read live updates on the bridge collapse here.
Editor says #AceNewsDesk reports & #Brittius says are provided by Sterling Publishing & Media News and all our posts, links can be found at here https://t.me/acenewsdaily and thanks for following as always appreciate every like, reblog or retweet and free help and guidance tips on your PC software or need help & guidance from our experts AcePCHelp.WordPress.Com or you can follow our breaking news posts on AceBreakingNews.WordPress.Com or become a member on Telegram https://t.me/acebreakingnews