#AceNewsReport – Mar.25: Mr Puigdemont, who is wanted in Spain for sedition and rebellion, was held crossing from Denmark on the way to Belgium, his lawyer said: Mr Puigdemont had been on a visit to Finland since Thursday………He has been living in self-imposed exile in Belgium since Catalonia's parliament unilaterally declared independence from Spain in October………The charges of rebellion and sedition that Mr Puigdemont faces in Spain could result in 30 years in prison: He slipped out of Finland on Friday before authorities could arrest him #AceNewsDesk reports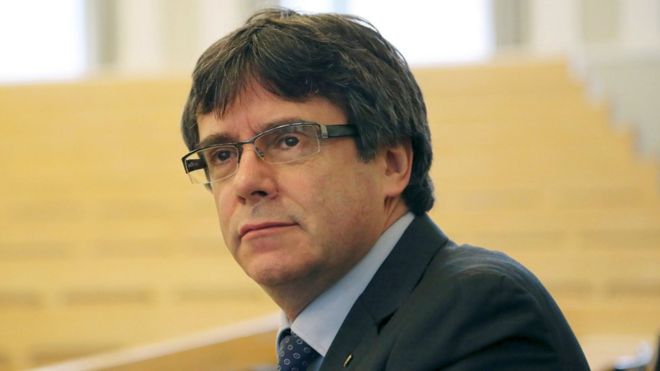 EPA
Mr Puigdemont is wanted in Spain on charges of rebellion and sedition
"The president was going to Belgium to put himself, as always, at the disposal of Belgian justice," his spokesman, Joan Maria Pique, told Reuters news agency: German police said that Mr Puigdemont was detained by a highway patrol in the northern state of Schleswig-Holstein, which borders Denmark………Tensions in Catalonia are very high and its separatist leaders abandoned plans to name a new president following the arrest of the latest candidate, Jordi Turull, on Friday………..Crowds of protesters had clashed with police in Barcelona on Friday night after Spain's Supreme Court ruled 25 Catalan leaders should be tried for rebellion, embezzlement or disobeying the state. Mr Turull was among five people taken into custody in fresh arrests.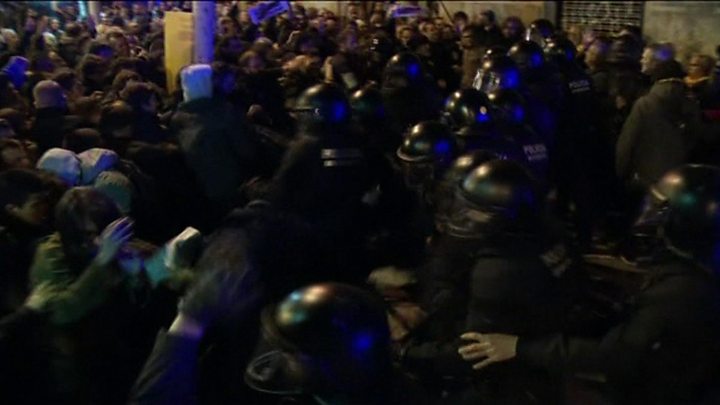 Police clashed with protesters in Barcelona on Friday
The rulings were considered the most serious challenge to date to the Catalan independence movement. Almost the entire leadership now faces a major legal fight: Following the referendum, the central government in Madrid sacked the Catalan regional government, imposed direct rule and called new elections but pro-independence parties returned with a slim majority……..International warrants for Mr Puigdemont and other Catalan leaders were withdrawn in December by a Spanish judge who said they had shown a willingness to return to the country…….The warrants were reactivated on Friday, surprising Mr Puigdemont, who had been in Finland to give a university lecture.
Among those wanted is Catalonia's former education minister, Clara Ponsati. She is in Scotland, where she has a position at the University of St Andrews.
Spain to hand in papers to Germany for extradition of #Puigdemont https://t.co/vb7lbSb3Hn pic.twitter.com/fabPbXcAll Sputnik after German police detain Catalan ex-leader Carles Puigdemont, who is wanted in Spain for sedition, his lawyer says https://t.co/kqE4XnAJGs BBC News March 25, 2018
Editor says #AceNewsDesk reports & #Brittius says are provided by Sterling Publishing & Media News and all our posts, links can be found at here https://t.me/acenewsdaily and thanks for following as always appreciate every like, reblog or retweet and free help and guidance tips on your PC software or need help & guidance from our experts AcePCHelp.WordPress.Com or you can follow our breaking news posts on AceBreakingNews.WordPress.Com or become a member on Telegram https://t.me/acebreakingnews