#AceNewsReport – Apr.20: A man who inflicted horrific burns on two people after throwing a corrosive substance at them has been jailed at Snaresbrook Crown Court: John Tomlin, 25 (29.10.92), of Colman Road, E16, was sentenced on Friday, 20 April having previously pleaded guilty at the same court on 27 November 2017, to two offences of grievous bodily harm (GBH) with intent #AceNewsDesk reports

[Jailed: John Tomlin]
He was sentenced to 16 years' imprisonment, to run concurrently, for each offence with an additional four year extended licence………..The Judge ordered that he serve at minimum of two thirds of the sentence before release:
John Tomlin, 25, of Colman Road, Canning Town, admitted intentionally causing the pair grievous bodily harm: Tomlin, who "had no previous dealings with the pair", was sentenced at Snaresbrook Crown Court on Friday………..Ms Khan, a Manchester Metropolitan University student, suffered face and neck injuries and was left with damage to her left eye………Mr Mukhtar, 37, who had to be placed in an induced coma, has permanent scarring to his head, neck and body and has lost hearing in one of his ears.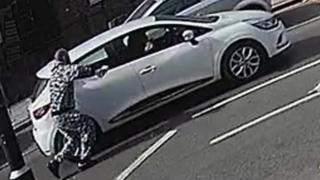 CPSCCTV shows John Tomlin throwing acid into the pair's car
Ms Khan broke down in tears as she read her victim impact statement in court and described the devastating impact the attack has had on her life………."My 21st birthday turned into a day where my face was taken away from me," she said………."I have been looking at myself in the mirror it upsets me, it brings back the incident on the day, it doesn't look like me."……..She will carry lifelong scars and has suffered from severe depression and anxiety as a result of the attack, the court heard.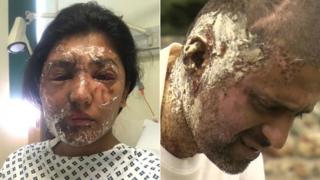 Resham Khan/BBCResham Khan and Jameel Muhktar both suffered severe burns to the face and body
Mr Muhktar also suffers from depression and said he has tried to take his own life………."I get flashbacks and am really worried to leave my house, constantly looking over my right shoulder fearing attacks," he told the court………"I am still in so much pain, I'm still burning and struggle to sleep at night," he added………."I am mentally and physically scarred for life. I can't even have a relationship. It's enough dealing with myself."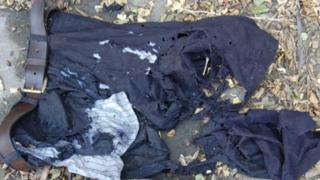 CPSJameel Muhktar's trousers were destroyed by the acid
Helen Taylor, of the CPS, said it was an "appalling attack that left the victims with physical and psychological scars"………."This case serves as a warning of the harm acid can cause and that those who use it as a weapon can face significant prison sentences," she added……..
The court heard how on 21 June 2017, at 09:13hrs on Tollgate Road, E16, Tomlin had got into an argument with a 37-year-old man……The argument had started on the pavement and when the man returned to his car, Tomlin approached and threw a corrosive substance at the man through the car's open passenger window……..In the passenger seat of the car was a 21-year-old woman and the majority of the liquid hit her………The woman began screaming and the man tried to drive away, but was blocked by parked vehicles……..As he tried pull out into the road, Tomlin, not content with the initial attack, ran around the car and threw more of the substance through the driver's window onto the driver……..Tomlin ran alongside the car in an attempt to continue the attack and only stopped when the car outpaced him……..The driver was temporarily blinded by the liquid, but kept driving to flee Tomlin's attack – eventually the car mounted a pavement and crashed a short distance away:
The substance, which was thrown from a bottle, was so strong that it melted the victims' skin and clothes where it struck. A subsequent examination of the car revealed that the powerful corrosive had melted through the car's seats and dashboard:
A member of the public coming upon the crash took both victims to an east London hospital in his car…………Both victims suffered extensive burns to their faces and bodies and have required plastic surgery; they are still being treated for their injuries:
An immediate investigation was launched by detectives from Newham Borough, and Tomlin was quickly indentified as a suspect………..A manhunt began to find him and on 9 July 2017, Tomlin handed himself into an east London police station and was arrested on suspicion of GBH with intent………..He later told officers that he had been living rough in Epping Forest to avoid arrest………….The next day Tomlin was charged with two counts of causing GBH with intent.
Detective Sergeant Dion Brown, from Newham CID, said: "This was a vicious attack, which has left two victims with substantial injuries that will stay with them for life. Both victims still require treatment for the burns they suffered that day and my thoughts are with them as they continue their recovery.
"Although the bottle Tomlin used to carry the substance was never found, testing on some of the liquid recovered from the crime scene showed it was a strong acid, equivalent to hydrochloric acid.
"I am glad Tomlin accepted his responsibility for the attack and spared his victims having to relive that terrible ordeal at court. Acid attacks can inflict terrible, disfiguring injuries and cause excruciating pain. Those who cause such injuries can expect severe consequences when they are brought to justice.
"That is why the sentence today reflects the extreme seriousness of this crime."
A man has been jailed after pleading guilty to throwing acid at two people following an argument #Newham https://t.co/6WJ8k6HDQE pic.twitter.com/mlq5VGdCr0— Metropolitan Police April 20, 2018: BBC News contributed to this report of John Tomlin is sentenced for causing grievous bodily harm to Resham Khan and Jameel Muhktar: BBC News https://bbc.in/2HfTRyi
Editor says #AceNewsDesk reports & #Brittius says are provided by Sterling Publishing & Media News and all our posts, links can be found at here Live Feeds https://acetwitternews.wordpress.com/ Ace News Services Posts https://t.me/acenewsdaily and thanks for following as always appreciate every like, reblog or retweet and free help and guidance tips on your PC software or need help & guidance from our experts AcePCHelp.WordPress.Com or you can follow our breaking news posts on AceBreakingNews.WordPress.Com or become a member on Telegram https://t.me/acebreakingnews all private chat messaging on here https://t.me/sharingandcaring