#AceNewsReport – Dec.05: Theresa May's Brexit backstop plan risks a "stalemate" and "protracted rounds of negotiations" with the EU, the full legal advice on her deal says: Newly published documents show the PM was told an arrangement designed to prevent a hard Irish border could last "indefinitely" and the UK could not "lawfully exit" without EU agreement…………..The Democratic Unionists said this would be "devastating" for the UK ……………..But Mrs May rejected SNP claims she has misled Parliament on the issue #AceNewsDesk reports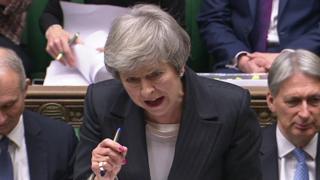 HoC
Ministers were forced to publish Attorney General Geoffrey Cox's full advice after ministers were found in contempt of Parliament on Tuesday for providing only a legal overview earlier this week: Speaking in the Commons, the prime minister said there was "no difference" between the two documents and the legal position on her proposed "temporary" customs arrangement with the EU was clear.
While the UK would have no unilateral right to withdraw from the backstop – a measure designed to prevent the return of physical checks on the Irish border by the UK and EU sharing a single customs territory – she insisted neither the UK nor the EU wanted it to come into force in the first place:But the Democratic Unionists said they could not accept Northern Ireland being subject to different regulation and judicial oversight from the rest of the UK and effectively becoming a "third country" from Britain.
The government argued that Mr Cox's analysis of the Brexit deal, published on Monday, was adequate and disclosing his full and final advice would be against the national interest……………………..Labour and other opposition parties said ministers had "wilfully" refused to comply with a binding vote in the Commons last month which demanded full disclosure and MPs agreed in a vote on Tuesday.
In the six-page letter published on Tuesday, Mr Cox said the "current drafting" of the backstop "does not allow for a mechanism that is likely to enable the UK to lawfully exit the UK wide customs union without a subsequent agreement"…………."Despite statements that it is not intended to be permanent… in international law the protocol would endure indefinitely until a superseding agreement took its place," he wrote……………."In the absence of a right of termination, there is a legal risk that the UK might become subject to protracted and repeated rounds of negotiations…The resolution of such a stalemate would have to be political."………………The backstop has become a defining issue for many Tory critics of the PM's deal – who say that it infringes the UK's sovereignty and will prevent the UK from being able to negotiate its own trade deals………….Mr Cox has warned the backstop is a "calculated risk" and entering into is would be a political decision.
"This risk must be weighed against the political and economic imperative of both sides to reach an agreement that constitutes a politically stable and permanent basis for their future relationship," he wrote.
Editor says #AceNewsDesk reports & #Brittius says are provided by Sterling Publishing & Media News and all our posts, links can be found at here Live Feeds https://acenewsroom.wordpress.com/ Ace News Services Posts https://t.me/AceSocialNews_Bot and thanks for following as always appreciate every like, reblog or retweet and free help and guidance tips on your PC software or need help & guidance from our experts AcePCHelp.WordPress.Com or you can follow our breaking news posts on AceBreakingNews.WordPress.Com or become a member on Telegram https://t.me/acebreakingnews all private chat messaging on here https://t.me/sharingandcaring